Part 1- PERVERSION IN THE HOUSE OF AN HD USHER
Zombie 5 Revenge in the house of Usher
I, for one, would love to see an HD restoration of Jess Franco's EL HUNDIMIENTO DE LA CASA USHER, the 1983 Spanish language production which has appeared in an alternate form on US VIDEO and DVD under the title REVENGE IN THE HOUSE OF USHER (Wizard Video) and NEUROSIS/REVENGE IN THE HOUSE OF USHER (IMAGE DVD, 2001).
It's not an easy film in any version, deliberately paced, heavily mannered in the Expressionist style, and almost esoteric in tone.
Franco did not originally intend this as another Dr. Orloff entry, which it somehow became when footage from the director's 1961 GRITOS EN LA NOCHE was added as flashbacks to Usher's criminal past in the Eurocine prepared version. But Jess Franco has said that he was involved in this revision also, "Once the film was finished, the idea of including scenes from GRITOS EN LA NOCHE turned me on. Vernon and I decided that the film was almost like a sequel. So I added in some scenes in flashback. I find the result very interesting." [P242, OBESSION THE FILMS OF JESS FRANCO; INTERVIEW- JESS FRANCO, Tim Lucas, Lucas Balbo, Peter Blumenstock, Christian Kessler, 1992, Garf Haufen & Frank Trebben]
Nonetheless, it is also very likely these inserts were Eurocine requests.
1982 VHS. With power drill scene?!
According to my colleague and blog associate, Nzoog
, EL HUNDIMINETO....Jess Franco's original cut, has never played theatrically anywhere after it was recut in the wake of a Festival showing.
Apparently, Franco's original version had a very poor reception when screened in Spain at the Imagfic Fest and was later recut into THE CRIMES OF USHER, which had a brief Spanish release, but again according to Nzoog, no Spanish video release
Above: Stand alone EUROSHOCK COLLECTION DVD.
Below: The Orlofff Collection boxset [IMAGE]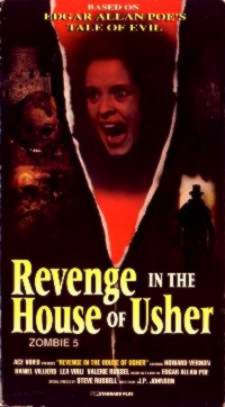 Several gory, perverse murder scenes were added where Howard Vernon's USHER attacks a woman, a prostitute and a young girl, beating them to with his cane or slicing them up and licking their blood off the murder weapon's blade. A serial killer-vampire Usher. These added inserts do not appear in REVENGE, which adds new, different footage, including the GRITOS EN LA NOCHE material.
This fetish shot, included in the reshot Spanish version, precedes a brutal murder and blood drinking interlude.
Shot in Jaen, Andalusia, with some scenes lensed in Madrid, the film has a very odd neo-Gothic look, but with saturated colors and very dense mise-en-scene, it's rather like a wake during which everyone is frozen in place for around 80 minutes, perhaps appropriate to Poe.
Franco has also said that in retrospect he considered this a kind of semi-sequel to GRITOS EN LA NOCHE, even if he didn't initially intend it to be. That might make it appropriate that it was eventually included in The Orloff Collection DVD boxset
Thanks to Nzoog for additional information.
More images and text to come!
(C) Robert Monell