Jess Franco died in Malaga Spain on April 2, 2013. Long live Jess Franco! I like to think he is now with his so-called muse, his longtime companion, sometime editor, assistant director and leading lady, Lina Romay who preceded him the year before. The fact that he actually managed to complete a new feature, AL PEREIRA VS THE ALLIGATOR LADIES, featuring his longtime leading man, friend and production manager, Antonio Mayans, while he was grieving and preparing to leave this life, is nothing short of inspiring. It's now out on Blu-ray. One of the most satisfying things in my own life was having a web series which I wrote, RETURN OF THE BLOODSUCKING NAZI ZOMBIES, included on the Blu-ray and DVD discs. I finally, indirectly, got to collaborate, in a way, with a favorite filmmaker.
A follow-up, REVENGE OF THE ALLIGATOR LADIES, is in the works, which will use footage which Franco shot and new footage directed by Antonio Mayans. A work-in-progress was screened earlier this year at SITGES and a review by Nzoog can be found on CINEMADROME: THE WORLD OF JESS FRANCO FORUM www.cinemadrome.yuku.com
A book, see above, which I have not read, and a series of Blu-rays and DVDs of a number of Jess Franco's most important films have also been released this past year, with more, much more to come. My own personal Jess Franco DVD count is well over 100! His very first horror film, GRITOS EN LA NOCHE (1961), a ground breaking international hit which made his name in America, made it to Blu-ray, leaving us with his first and last significant works now on that medium.
My personal favorite Jess Franco 2013 presentations were Redemption/Kino's A VIRGIN AMONG THE LIVING DEAD, with two alternate versions of this key title available along with an engaging commentary by Tim Lucas and Severin's THE HOT NIGHTS OF LINDA 3-Disc set. The latter actually had the French hardcore version with new English subtitles. It looked transferred from an old VHS but that was fine with me. You also got the English dubbed version, with alternate scenes replacing the hardcore material and somewhat closer to a "director's cut." A last interview with Jess Franco and a very moving interview conducted with both Jess and Lina Romay, recorded in 2006, were also included. This presentation helped me to reevaluate this rather obscure feature, shot in a year where the director worked on another dozen or so projects. I now find it a kind of Sirkian melodrama, Eurotrash style, essaying the downfall of a highly dysfunctional Franconian family, bracketed within a warning daydream. Perhaps a presentiment "dreamed" by Alice Arno, who is at her very best here.
Another 1973 Alice Arno-Jess Franco project, a De Sade adaptation, PLAISIR AU TROIS aka HOW TO SEDUCE A VIRGIN was released, in a reportedly impeccable transfer, by the estimable MONDO MACABRO DVD company. I haven't had the chance to see it but it seems well worth the trip.
HOW TO SEDUCE A VIRGIN aka PLAISIR A TROIS: from Mondo
Macabro.
I'm also hoping to finally catch some of the Ascot-Elite Blu-ray releases, including DORIANA GRAY, DOWNTOWN, among others.
Frauen ohne Unschuld / Women Without Innocence / Goya Collection
Ascot Elite Home Entertainment | 1977 |

79 min

| Rated FSK-18 | Dec 03, 2013
Large: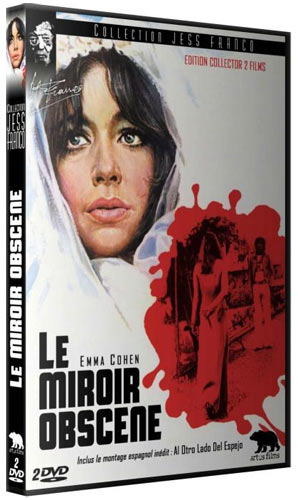 With the essential AL OTRO LADO DEL ESPEJO/THE OBSCENE MIRROR, THE DEMONS, THE EROTIC RITES OF FRANKENSTEIN, TENDER AND PERVERSE EMANULLE, and more in the Blu-ray/DVD pipeline, 2014 is shaping up to be another Year of Jess Franco.