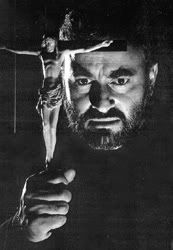 One of the many faces of Paul Naschy.
Jacinto Molina Alvarez aka Paul Naschy died today in Spain after a battle with cancer. He was 75. He has been known as El Hombre Lobo and the Lon Chaney of Spain but I have always considered him the King of Spanish Horror.
As an actor, director and writer he was kind of the polar opposite of another famous Spanish genre-film artist, Jess Franco, but his films are equally passionate and feature a unique, personal vision. His epic cycle of Waldemar Daninsky-werewolf films spanned over 30 years and 12 titles.
Some of my personal favorite Paul Naschy titles include his under appreciated medieval fantasy EL CAMINANTE, the macabre HUNCHBACK OF THE MORGUE and his eccentric vampire opus COUNT DRACULA'S GREAT LOVE.
Thank you, Paul Naschy, your work brought a great deal of joy and entertainment into my life over the years. You will be missed. RIP....