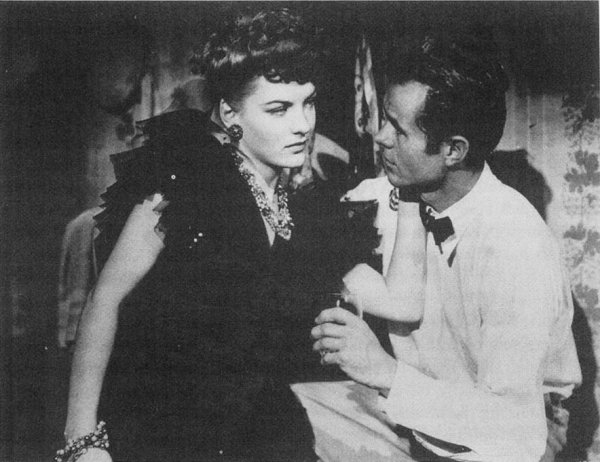 VAMP ELLA RAINES USES SEX AS A WEAPON AGAINST DOOMED JAZZ MUSICIAN ELISHA COOK JR. IN ONE OF JESS FRANCO'S FAVORITE FILM NOIRS...
"Robert Siodmak is a director we have to rediscover" Jess Franco said in one of his DVD interviews a few years ago and he does take his Siodmak seriously. He took a break in his own career in 1966 to become Siodmak's personal assistant on the Spanish set of CUSTER OF THE WEST, which also had in its cast future SUCCUBUS male lead, Jack Taylor. When I mentioned to Jess during one of our marathon phone conversations a few years ago that Siodmak's PHANTOM LADY (1944) was a favorite film noir of mine he immediately lit up and launched into what seemed like a centuries-long appreciation of the "Jazz Style" of this classic of what he calls "Black Cinema". And when I mentioned the Jazz improv session which Elisha Cook Jr. and our vamped-up heroine visit (pictured above) he recalled the scene
shot by atmospheric shot and I realized this was probably one of the templates for his own BLACK ANGEL aka VENUS IN FURS, in which another jazz musician is seduced to death by a sexually entrancing avenger. Film noir, along with pulp fiction, movie serials, comics, jazz and eroticism are the fonts with which JF draws his special vision. PHANTOM LADY was based on a 1942 novel by "William Irish" one of the pen-names of Cornell Woolrich (1903-1968), one of the major figures in the hard-boiled crime fiction school which included Raymond Chandler, James M. Cain and Jim Thomspon, whose works would be adaptated into a number of classic 1940s and 50s Film Noirs. More on the topics of Cornell Woolrich, PHANTOM LADY and Robert Siodmak in the future...
COPYRIGHT ROBERT MONELL, 2006.